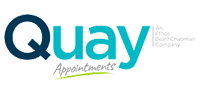 ---
Operating for over 20 years, Quay Appointments are an Australian recruitment business servicing Government and Private Sector organisations from our Sydney CBD and Parramatta offices.
Quay have been a top 10 provider of contingent labour to NSW State Government since 1994 and our wider client base includes commercial, blue chip corporations and the local government. With a large client base and equally strong candidate base, many of whom have been with us year on year, our ability to provide a superior recruitment service is evident in the repeat business we experience.
Based upon a known and proven philosophy of providing a highly personalised recruitment service, Quay Appointments establish ourselves as a highly effective recruitment agency that is totally customer focused.
Our aim is to form partnerships with our clients, working as an extension of their talent acquisition. Our recruiters are well connected, with the technical knowledge to match contractors to contract.
The devisions in which we recruit include:
Accounting & Finance
Business Support
Communications
Contracts and Procurement
Customer Service
Information Technology
Human Resources and L&D
PA's and EA's
Policy
Projects | Admin and Coordination
Website: https://www.quayappointments.com.au/